A quick two day trip to Houston for the first time in many years resulted in some real ups and downs but overall there were a few gems.
(All of the places can be found on this google map as well)
Crisp Heights is one of those places you could find in any city that emulates a chain restaurant with just a few things to make it feel local. A good beer list (24 on tap and mostly local) and the ability to do pour your own wine in the bar area it does have a nice bar space but otherwise it is nothing to write home about.
For the food, we tried the Saffron Arancini (I.e.Risotto Balls) which we pretty good but with 2 of us at dinner I always wonder why places give you something in threes. Also had to try the Crisp Pork Belly because, well, pork belly. This one was pretty good but I would say the best part was the Texas pepper relish that they add. I am normally a fan of short ribs, especially in a place like Texas you would expect them to be tender and delicious, they were neither. Mediocre at best and lacking flavor, this is not something I would go for again.
By far the best stop of the trip and not surprising as Anvil is #181 on the Top 500 Bar list, the only stop in Houston so it was well worth making a stop. A cool cocktail bar with fun bar staff that only offers cocktails and microbrews, don't expect a friend can have a Miller Lite here. One nice change was it was not your lounge style place at all, more sports bar style atmosphere that is dimly lit and pretty large but all about the spirits. You will want to know that parking is limited with a couple spots on one side and a small parking lot just across the street.
I tried the old fashioned that is always a good way to judge the bartenders (great tip from David at Tuxedo Social Club) and I quickly realized the balance would be decent, although it was a little sweet for my taste. From that point I noticed a Boulevardier on the menu which is one of my favorites. This one was pretty spot on. Worth stopping by if you have a night to spare in Houston.
I needed a place close to my hotel to meet an old friend for breakfast and this was within 3 minutes of both of our hotels so it was just an easy location. It ended up being exactly what we thought it would be a tried and true breakfast diner. Since I was in Texas I tried the Migas with chorizo and it was very good, lots of food as it came with hashbrowns and a side of toast, the eggs were more than enough. The salsa had a nice spice that I really enjoyed. It was very quiet midweek which made for a nice place to meet up for a early morning meeting.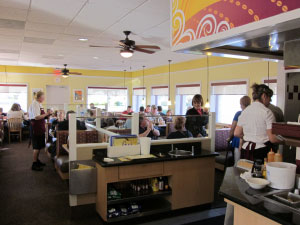 I did not get to check this place out for as long as I would have liked since I was there for a corporate event in the private upstairs room but I was a little early and got to check the grounds out before. Very nice space for a weekend afternoon with a pub if its rainy like it was for my visit but on a sunny day it would be much nicer. Outside you will find a couple of covered beer garden areas along with a garden area outside the pub and a couple of bocce courts to play at your leisure. There is also a swag shop in the shopping center right beside and attached.
The beer is the big question when visiting a brewery, they are most likely known for their Kolsch if I had to guess but was never really told.
I tried the Hopadillo IPA along with the Light Circus Hazy IPA. The Light Circus I was not a far of but have found alot of the new Hazy IPA are lacking in flavor other than citrus. The Hopadillo felt like a solid west coast style IPA and I did enjoy it.